The theory of Scrum is easy enough to understand and freely available through the internet. Although the theory of Scrum is simple, but implementing it is not as easy as it looks. Many organizations have failed to implement Scrum after reading freely available resources. That is because most of the theory and philosophy of Scrum needs to be explained by practical exercises.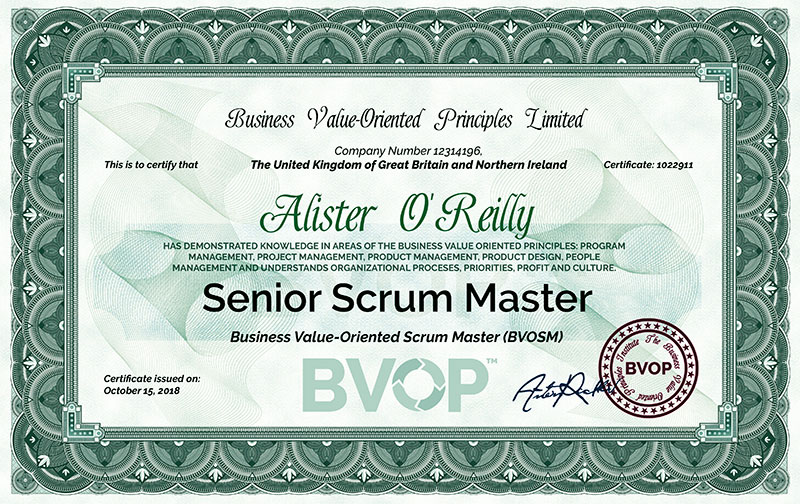 We believe that our course material is high-standard and does not only cover what is available on the internet. The majority of our students testified that the course material is beyond their expectations. This is because our course material is defined collaboratively by the co-creator of Scrum, Ken Schwaber himself, with hundreds of Scrum experts throughout the world.
Which training should I take: Professional Scrum Foundations (
PSF

) or Professional Scrum Master (

PSM

)?
Professional Scrum Foundations Course
Scrum Teams succeed best with a solid foundation and this two-day course prepares individuals or teams to begin effectively using Scrum immediately. The Scrum framework, mechanics, and roles of Scrum are emphasized with a focus on practical application.
Using Scrum is hard. We want our students to succeed even after leaving the course. Unlike other Scrum trainings which ask students to play games, which may sound fun during the course but can be frustrating after leaving the course, in Professional Scrum Foundations (PSF) class students will actually built real software collaboratively with other students in the class. This ensures that students understand how to use Scrum in software development context when they get back to work. This makes PSF Training higher quality training compared to other Scrum training in the market.
Common missteps in the adoption of Scrum have been seen over and over again across industries, companies, and teams. Rather than coaching teams back from a poorly functioning Scrum implementation, PSF exposes these common missteps, increases the awareness of the associated symptoms, and provides prescriptive guidance to avoid going off track.
Professional Scrum Foundations (PSF) is the perfect introduction to Scrum for anyone new to the framework. Whether your team needs a flawless Scrum launch or needs to reboot a struggling Scrum implementation, this class lays the foundation for an effective Scrum team. This course also provides the foundation of knowledge needed for role-focused training for Product Owners, Scrum Masters and Developers.
PSF Course is suitable for you if you:
Never read or even heard about Scrum at all.
Are still investigating about Scrum and how it may fit for you.
Have read about Scrum but never actually used it in the real project.
Would like to see practical usage of Scrum and not care about high-level concepts.
Professional Scrum Master Course
The Professional Scrum Master (PSM) course provides information and tools that you can use to ensure that Scrum is understood and enacted well by your team. This course covers Scrum basics, including the framework, mechanics, and roles of Scrum. But it also teaches how to use Scrum to optimize value, productivity, and the total cost of ownership of software products. Students learn through instruction and team-based exercises and are challenged to think on their feet to better understand what to do when they return to their workplaces.
Scrum.org maintains the defined curriculum and materials for the Professional Scrum Master course and selects only the most qualified instructors to deliver this course. Each instructor brings his or her individual experiences and areas of expertise to bear, but all students learn the same core course content. This improves their ability to pass the Professional Scrum Master assessments and apply Scrum in their workplaces.
PSM Training is a highly interactive course which engages students to have a group discussion with other students in the class about many real case scenario of Scrum projects. This way students are empowered so that not only they know how to face common cases in Scrum projects but also have the Scrum mindsets when returning to their workplace. This what sets PSM Training apart from other Scrum training in the market and makes PSM Training a premium quality.
PSM Course is suitable for you if you:
Are a Scrum Master of a Scrum Team.
Management who is responsible for the successful use and/or rollout of Scrum in a project or enterprise,
Have used Scrum extensively and wish to improve your current process.
Would like to know high-level concepts and philosophy of Scrum.
Can Scrum be used outside of software development?
Eventhough Scrum is a general-purpose framework, we are only focused on delivering Scrum training for software development context. What this means is that we are entirely focused on improving software development. This makes us an expert with Scrum in software development context instead of a generalist Scrum practitioner. While there are certainly lessons and techniques from Scrum that are more broadly applicable, we think the challenges faced by people and organizations building software are difficult enough.
Will I be a Scrum Master after the Professional Scrum Master (
PSM

) Course?

The named role of "Scrum Master" is often misinterpreted to be "one who has a mastery of Scrum". This is not at all the case. Scrum Master is a role within a Scrum Team. Scrum Masters have a core set of responsibilities in a Scrum environment, just like Product Owners, and Developers.

The Advanced Scrum Master course teaches tools, knowledge, and skills needed to be an effective Scrum Master for a Scrum Team. If one is already working as a Scrum Master, the PSM course will help them improve.

Do you still have any questions in mind which are not covered here? Please feel free to contact us.
More Scrum and Agile-related resources
What are the differences between the Certified Scrum Master (CSM) course + certification from the Scrum Alliance and Professional Scrum Master…
The Professional Scrum Developer course is really handy and useful for all developers around the world. If today you are at a…
We need to discuss the Professional Scrum Master vs Professional Scrum Developer topic. Throughout the years of being a Professional Scrum Trainer through
Scrum is not that easy and different issues may arise. A recurring question I am often asked is…
We will discuss the transparency in Scrum teams and Agile organizations. It is a very popular term in Scrum literature and modern Agile…
Scrum can cause problems and may lead to failure in some organizations. Common Scrum issues always have to do with…
Lean Product Development is not just a product management practices following some processes. Last year I was fortunate enough to attend a…
The Agile 2020 Conference sessions are distributed into Tracks to help you find sessions about particular topics. Check on the tracklist. Then go to the…
What happens to all of the Unfinished Product Backlog Items? Nobody asks this question but it is important. In most of my Scrum classes…
Agile product managers and product owners really need to be skilled in creating user stories. This real User Stories example is part of a project management course in which…